The target market of the esports industry has been rapidly changing since esports' origins with the first Spacewars tournament in 1972. So what is the esports target market?
The esports target market is men between the ages of 18 – 34 that compose 38% of gamers, primarily located in Asia-Pacific countries that bring 57% of esports viewership. According to the Newzoo 2020 report, the esports target market is composed of 223 million esports enthusiasts and 495 million viewers with a YoY of 11.7%.
In this article, we will dive more into the specifics of the esports target market, including specifically what we see occurring in the US, the rapidly growing sectors of the esports industry and how the market projects to shape as a result.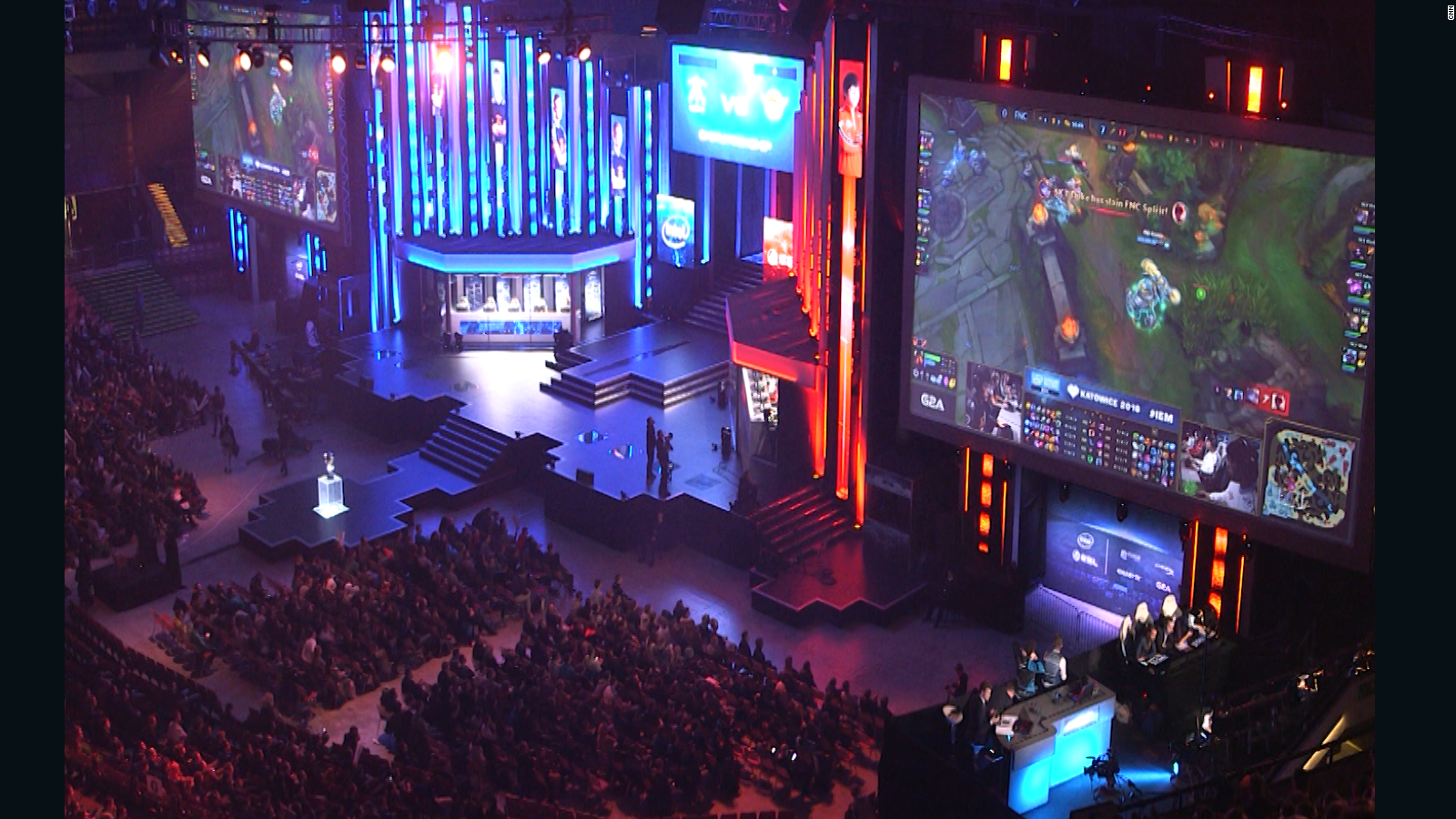 Esports Target Market
Esports Global Target Market
The esports industry is massive on the global scale, with total revenue reaching $1.1 billion in 2020, with a massive year-over-year growth of +15.7%. However, the year-over-year growth has been plateauing every subsequent year, for example in 2019 the year-over-year was +22.4%.
That being said, the growth is expected to be fairly consistent in upcoming years. Newzoo predicts that the year-over-year will stay stagnant between the 15.7 to 14.9 mark over the next 3 years, and suspects 2023 to experience a year-over-year of 14.9%.
Esports globally is a male-dominated industry from a player perspective. Estimates put male gamers at 95% of the professional and competitive scene, meanwhile females compose about 5%. This isn't reflective of female's involvement in esports and gaming from a consumer standpoint.
Females actually compose 60% of video gamers between the ages of 18-29, which is also the primary of professional esports players. Overall, males compose 59% of the gamer demographics while females compose 41% in 2020.
The equalization of male and female gamers has been progressing per year. This is likely due to the cultural perceptions of gaming being more open than focused towards males, especially from a marketing standpoint.
The change is evident. For example, only 38% of gamers were females in 2006, which was 3% lower than what we currently see in 2020.
Esports Target Market in the United States
The United States target has some similarities and differences from the global market. According to the Entertainment Software Association, the average age of a gamer is 35 – 44 years old but the largest age group of players are between the 18 – 34 age range.
Within the age range of 18 – 34, 80% of males enjoy playing first-person shooter games while less than 50% of female gamers enjoy the genre. Instead, the favorite game for female players is family/party games, which is enjoyed by 59% of that base.
That goes to show how diverse females in particular with their preferred genre of games. Not to mention that females primarily play mobile, 77% of them, making mobile gaming their most played platform.
Meanwhile, 75% of males play on console, making this their most played platform. These trends are consistent amongst both genders until the age of 54.
Americans between the ages of 55 – 66 primarily play on smartphones, more than half of both males and females. This is contrasted by individuals 65+ who surprisingly most play on computers.
Those 65+-year-olds includes both males (at 68% playing on PC) and females (at 60% playing on PC). I'm not entirely sure why that is, but it seems to be extraordinarily different from all other age groups in the industry to prominently play on PC.
Esports Target Market Segments
Esports Global Market Segments
The esports industry can be segmented in a number of ways. This includes through the age of participants, genres, level of competition or the platform. In this case, we will be focused on looking at the various devices and how that breaks down amongst consumers of the gaming industry which correlates to the market presence in the esports industry.
The largest and most profitable segment of the gaming industry is mobile games. Below is a chart by Statistica which showcases the growth of mobile gaming:
As you can see, mobile gaming has been steadily growing for the past decade, surpassing all other segments while both pc and console shrinks in the overall most played platforms.
This is completely due to the accessibility of mobile devices and the growth of the internet and technology in this past decade in developing countries and 2nd world countries in the east.
These eastern countries dominate the mobile esports and gaming space, especially for competitive mobile game titles such as PUBG Mobile, Free Fire, Clash Royale, etc.
PC is projected to decrease in usage versus console in 2021. This projection, however, is projected to be undone in subsequent years as console popularity begins to plateaus and the gamer age demographic matures in age.
In addition to the decreasing cost of PCs making them the more liked and preferred option as time progresses.
With the current state of eastern countries, mobile gaming is still projected to continuously grow tremendously in the next 5 years and then hold dominance for the subsequent 5 – 15 years as PCs become the more accessible choice.
Mobile devices still have the portability option over PCs, which will support it from going obsolete for the coming decades.
Esports United States Market Segments
In the United States, we are seeing an increase of overall households that own a device to play video games on. In 2018, this number was 64% and it has grown since.
The most popular platform in the United States for gamers are consoles. In fact, according to the ESA's 2020 report, 73% of gamers own a game console. However, when you segregate the demographics by age, you can see that for adults, the most used platform for gaming is smartphones and mobile gaming.
This isn't to say that consoles aren't used by adults. 52% of adult gamers use game consoles, versus the 61% that use mobile devices. Computers aren't far behind, with 49% of gamers use PCs to game.
The moment popular genre for gamers in America is casual games, which are played by 71% of gamers. A large factor that boosts the casual games percentage is the large number of mobile players, which typically mostly play casual games verse more competitive games.
That being said, the most played mobile games internationally by hours played are competitive mobile games, however, casual players far surpass them in sheer downloads and monthly plays.
Esports Market Size and Market Growth
Esports Market Size
The overall market size in the esports scene is fairly massive. With esports revenue exceeding the 1 billion mark in 2019. As mentioned earlier, in 2020 the market revenue was 1.1 billion.
The global year over year growth is +15.7% according to Newzoo, which overall is less than the prior years. For example, in 2017 the esports scene saw a 41% overall year-over-year growth.
Within countries with less developed esports scenes, their year-over-year growth is still around the 30% – 50% point.
That being said, mobile in the gaming industry has been making many leaps and bounds, and analysts expect that massive growth to trickle into the esports industry as well.
Not to mention VR and AR likely bringing anticipated massive spikes to the industry.
To fully grasp the market size, it's important to understand the ecosystem of esports and what constitutes revenue within esports. Don't get confused with the gaming industry, which has its own metrics and aspects that compose its market size. Click here to learn all about the esports ecosystem (COMING SOON).
With that said, sponsorship continues to become the dominant segment of the ecosystem composing 58% of the overall industry revenue. This is only projected to grow, more details about that below.
Media rights have also seen good growth over the past decade with more successful television integrations entering the scene. As esports further becomes mainstream and enters into the realms of the Olympics, we only expect media rights to dominate a larger piece of the revenue pie.
Publisher fees should also grow slightly as more game publishers try to leverage esports as a platform to promote their game. This already happens a fair bit, but it's sure to grow more and the practice isn't intended to die out anytime soon.
Esports Market Growth
The esports market is only anticipated to continue to grow, as mentioned above, especially through infrastructure development in 2nd world countries.
As VR and AR technology becomes more developed and more accessible, that is anticipated to blow up far beyond esports, but the esports industry is sure to benefit.
Below is a chart of a US's esports market size growth projections until 2027: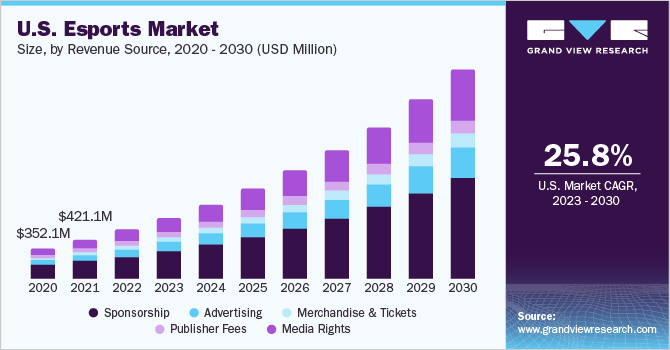 As you can see, esports is only expected to grow, with media rights seeing significant growth in contrast to the other revenue sources. But sponsorship should remain the largest segment of the industry, although it will lose majority as esports becomes more mainstream where media and advertisements become more prevalent.
Related Questions
What are Publisher Fees – Publisher fees are payments made from game developers to tournament organizers as a marketing investment to promote their games by using the unique young and engaged demographic of the esports industry. This fee constitutes as a source of revenue in the esports industry.
How to Host a Fortnite Tournament – In order to host a Fortnite tournament, you need to determine what format you would like the tournament to focus around, then create clear rulesets and a well-planned schedule. You want to follow that up by setting up all pre-event preparation required. Lastly, you will need to provide a lot of hands-on support and regulations during the live event. If you want a complete guide on how to run a full Fortnite tournament, step-by-step, be sure to click here!