Esports has been rapidly growing in Canada and the globe, but there is still a lot of infrastructure that needs to be done in the Canadian market. How is Esports in Canada?
The esports scene in Canada has seen rapid growth since 2017, with many grassroots businesses in western provinces cultivating more established scenes. Canada's primary scenes are situated in Ontario, Quebec and British Columbia, or more specifically, in Toronto, Montreal and Vancouver. Many American esports businesses have been entering the Canadian markets.
In this article, we will dive into Canada's esports scene, the changes that are taking place, each primary esports team, and the different businesses located in the various provinces of Canada.
Esports in Canada Overview
The esports scene in Canada is currently very barren. If you want a comparison, typically you look at South Korea as the leader in esports development. From there, Asian countries such as Japan, Thailand, China, etc are runner ups for development.
After that, we look at countries like the United States. Canada is behind all of that, I'd arguably say we are even behind Turkey at this point, although our development is superior to countries like Australia and the United Kingdom.
Let's breakdown some different facets of esports and how it may compare to our southern ally, the United States.
Esports Tournaments
Esports tournaments, specifically tier-one tournaments, are what make esports an industry to begin with. What esports tournaments are in Canada?
Besides Lan ETS and DreamHacks, Canada has no major esports tournaments. Canada hosts no tier-one tournaments for major esports titles. Canada houses smaller tournaments and events such as EGLX and RedBull's AdrenaLAN.
This is a major disappointment for the Canadian esports market, but that isn't to say that esports isn't prevalent. There are many grassroots and a handful of tier-two tournaments and events.
The grassroots scenes are very prominent everywhere in Canada, with volumes of them increasing each subsequent year due to the low barrier-of-entry in the industry.
This is how almost every country starts to get into esports and it just goes to show that Canada is about 2 to 4 years behind the USA.
Esports Education in Canada
From an educational position, Canada isn't actually doing too bad when compared to the United States (at least Ontario, Quebec and British Columbia aren't). From a collegiate standpoint, Canadian Universities have done a decent job, especially since 2018, to build esports varsity programs and even esports educational programs.
For example, Ontario's Lambton College created North America's first-ever post-secondary esports-oriented esports program, Esports Entrepreneurship and Administration (a mouthful). Additionally, Ontario's Durham College created the first esports-oriented graduate certificate, Esport Business Management.
Canada does fall behind as far as the acceptance, development, and embracement of the esports varsity programs at many colleges. The majority of colleges (even the majority of just Ontario, the leading province of esports development) don't have college-backed varsity programs.
Additionally, Canada doesn't see esports infiltrating the high school scene, especially unlike what we see in the United States with the High School Esports League and PlayVS. Hell, HSEL has even moved down and is tapping into the middle school esports market while Canada only really has the MYEMB.
Within the next 3-5 years, we will see the majority of Canada's colleges fully backing varsity programs as they become more prevalent in student's decisions on which college to attend.
Esports Teams
We will talk about the specific teams more later, but I wanted to point out the distinct differences between Canadian esports teams and American teams.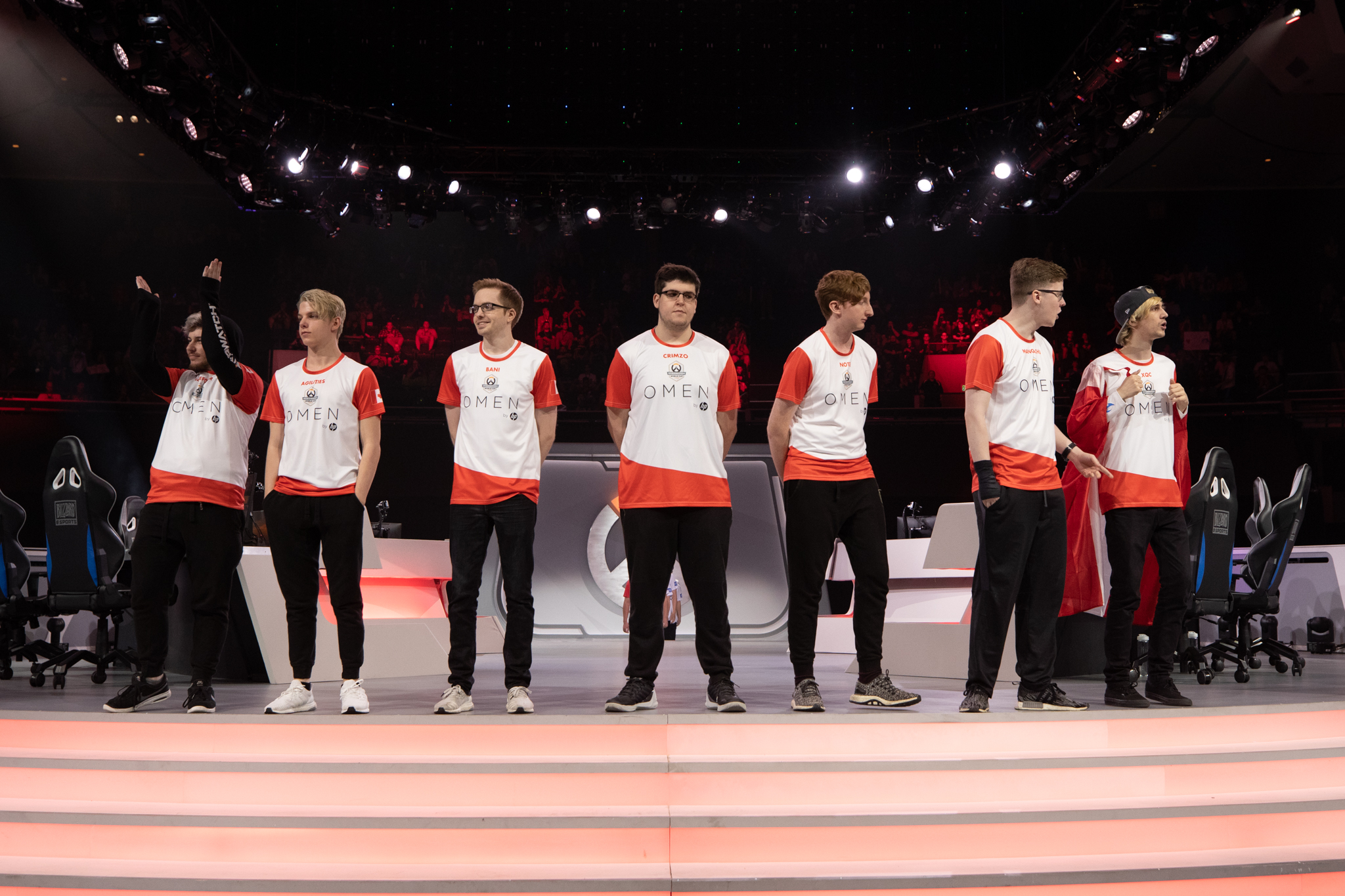 The Canadian teams really fail to capitalize on their local fan base and have been seeing to capitalize on the American market, but there is a very good explanation for this; there is about 9 times the number of Americans as there are Canadians.
The hard truth is that the esports market is a global game, and companies look at all their options when they are interested in sponsoring teams.
That being said, Canadian teams have an overall better time growing their Canadian base and are increasingly becoming the option for businesses to advertise their products, especially hardware and beverage companies from America looking to capitalize on the Canadian market.
Esports Scenes in Different Canadian Provinces
The esports scenes are vastly different in each province, with some exceptions that I will qualify here. The main provinces for esports are Ontario, Quebec and British Columbia. For this article, I will break them down separately.
The remaining provinces have very grassroots barren scenes. For that reason, I will make 2 separate groups as I explain them below. The western province includes Alberta, Saskatchewan, Manitoba. The next group will be the eastern provinces composed of New Brunswick, Newfoundland and Labrador, Nova Scotia and Prince Edward Island.
I will exclude Canada's territories, not because I'm being picky and saying "since they aren't provinces we can't talk about them". No no no, it's actually because those locations are so rural there really isn't much to talk about at all.
The territories, for those who aren't aware, are Northwest Territories, Nunavut and Yukon.
Ontario Esports
Ontario is Canada's largest province and from a base assumption, you would probably assume Ontario also has the largest esports scene. What is Ontario Esports?
Ontario esports is Canada's largest esports scene. With 14.6 million Ontarians, Ontario houses the most esports organizations in Canada such as Enthusiast Gaming, Luminosity Gaming, Amuka Esports and Lazarus Esports.
Ontario has many big name organizations housed within it. Ontario has the following esports organizations:
Enthusiast Gaming
Luminosity Gaming
Amuka Esports
Lazarus Esports (formally known as SetToDestroyX)
Media XP
Tiidal Gaming
Waves Gaming
Millenial Esports
Toronto Defiant
BEAT Esports
Toronto Esports Club
Waveform Entertainment
theScore Esports
Repable
Esports Tickets
OeSL (Ontario eSports League)
OPSE (Ontario Post Secondary Esports)
OLAE (Ontario League of Associated Esports)
This surely isn't an exhaustive list, I most definitely missed many. If there are any you want me to add, please let me know at uzair.hasan@esporthow.com.
Most of these businesses are based in or around Toronto, marking it as one of three primary esports cities of Canada.
Ontario has one of the best collegiate scenes in Canada, yet still has less than the majority of post-secondary institutions having teams. How many collegiate esports teams are in Ontario?
Ontario has 55 colleges and universities with collegiate esports teams. 96 post-secondary colleges and universities had no esports teams and 12 had esports clubs or intramurals.
Ontario has no tier 1 tournaments on its grounds and major esports events are limited to smaller esports events such as Enthusiast Gaming's EGLX (Enthusiast Gaming Live Expo) and RedBull's AdrenaLAN.
Quebec Esports
Quebec, similarly to France, has been seeing a flourishing esports scene. What is Quebec Esports?
Quebec is Canada's second-largest esports scene and Canada's largest french-speaking esports scene. With major events such as DreamHacks Montreal, Six International and Lan ETS. Quebec also houses the second most esports organizations in all of Canada such as Canada Esports Academy, Ubisoft and Esports Central.
Quebec has had some amazing organizations situated in this province that have greatly shaped Canadian esports. Quebec has the following esports organizations:
Canada Esports Academy
Ubisoft
Esports Central
Montreal Gaming
Girls on Games
Montreal Rebellion (recently folded)
MTL Esports
Grizzly's Esports
This is also not an exhaustive list, but if you have any items you believe I must add, be sure to email me at uzair.hasan@esporthow.com.
Also be advised that most of these organizations are based in Montreal, making Montreal one of three primary esports cities of Canada.
Quebec has many good esports LAN tournaments and has a well set esports scene for certain games such as Rainbow Six Siege.
British Colombia Esports
British Colombia's esports scene isn't too far behind the other two provinces already mentioned. What is British Colombia Esports?
British Colombia is Canada's third-largest esports scene. With companies such as Battlefy and Gaming Arena, British Colombia is at the forefront of Canada's Esports scene. Their largest esports team is the Vancouver Titans, primarily known as the Overwatch League.
Most of British Colombia's esports organizations and endeavours are located in Vancouver. This is why Vancouver is the last of the three esports cities of Canada.
Businesses in British Colombia include:
Battlefy
Gaming Arena
Vancouver Titans
UBC Esports Association (university club)
Again, not exhaustive, but these are the main organizations in the scene, especially Gaming Arena and Vancouver Titans.
Western Province Esports
Western provinces in Canada have struggled to build their esports scenes, yet organizations have sprung forward and are making it a relation. What is western Canada esports?
Western Provinces' esports suffers from their low population density. But with organizations such as SKL Esports, Manitoba Esports Association and Alberta Esports Association, there will be growth within their esports scene in the coming years.
There is a very limited number of non-grassroots esports organizations located in western Canada. I will list a few below:
SKL Esports
Manitoba Esports Association
Alberta Esports Association
Middle Years Esports Manitoba (possibly grassroots – I'm unsure)
The scenes are predominantly occupied by grassroots events. I'm not well-versed enough to speak any further on what is specifically popular in western Canada, but I know there are universities like the University of Manitoba that have esports clubs.
Eastern Provinces Esports
Eastern provinces in Canada are in a similar boat to western provinces. They seem to have a more grassroots scene but the tradeoff is the lacking of the support or financial backing we see in the west.
Some esports businesses in eastern Canada includes:
Ubique Network
Rutger University Esports
TomorrowLAN
Midgard Gaming
One thing that was interesting and worth noting is that the government of Canada invested $500,000 into Ubique Networks in 2018.
Esports Teams in Canada
Canada has a large number of esports teams that are actively involved in the community. What are esports teams in Canada?
Luminosity Gaming
Lazarus Esports (formally SetToDestroyX)
Toronto Defiant
Toronto Ultra
Vancouver Titans
Parabellum Esports
Mirage Sport Électronique
This isn't an exhaustive list, however this really is a good list of the top esports teams in Canada.
The sad reality is that Canada isn't a major player in international competitive esports, although we do have some presence. As Canada further develops its esports scene, more professional esports teams will rise.
There have been, however, countless other esports teams in Canada over the past 10 years.
Many of which had potential and started to grow as professional teams. Many of them folded.
Such as the Montreal Rebellion that folded as of 2020. What was the first Canadian esports team?
Lazarus Esports was the first established esports team in Canada, starting their organization back in 2010 named "SetToDestroyX". Lazarus Esports now is owned by Tiidal Gaming.
Luminosity Gaming is owned by Enthusiast Gaming and had players such as Ninja in their previous rosters.
Toronto Defiant is owned by OverActive Media (who also owned the Montreal Rebellion). OverActive Media also owns MAD Lions, a team from Spain, and Toronto Ultra.
The Vancouver Titans are actually owned by Aquilini Investment Group who owns the famous Vancouver Canucks.
Parabellum Esports is owned by Amuka Esports, Toronto's first esports incubator, which is a relevantly new team founded in January of 2021 and has yet to achieve any major results on the competitive spectrum.